If you need narrow aisle pallet racking in Yorkshire or the North, 2h Storage Solutions can help you with a free site survey and design advice.
It is usually the case that the narrower the aisle the more room for pallet racking and in turn more room for pallet positions and stock. Here at 2h Storage Solutions based just outside Leeds just off the M1 we specialise in the design, specification and installation of all types of pallet racking.
Traditional narrow aisle pallet racking is usually designed around a specific type of fork lift truck. These are usually "man up" or "man down". This describes how the forklift truck driver either remains in the cab in his original driving position in man down. Or is lifted up in the cab at the same height as the loading forks in a man up fork lift truck.
These work well in space efficient warehouse designs and are often used in high volume warehouses with high pick rates from the narrow aisle pallet racking. With improvements in fork lift truck technology and the pre-setting of pallet racking beam levels they operate in a safe and efficient manner allowing for accurate precision picking. This means that the pallet racking design and installation must adhere to the strict tolerances of narrow aisle racking.
2h Storage Solutions uses a tried and tested UK manufacture based in Telford in the UK to supply precision pallet racking for narrow aisle installations.
There are some significant advantages to narrow aisle pallet racking.
Each pallet can be retrieved or accessed immediately unlike drive in pallet racking.
It is ideal for those with high pick rates and fast stock rotation often used in the food industry.
The likelihood of damage to the pallet racking is greatly reduced as the trucks are often wire guided with pre-set beam pick levels.
Compared with standard warehouse pallet racking layouts the aisle can be half the width meaning greatly increased pallet capacity.
These systems maximise the storage from floor to the roof often operating above 10mtrs.
2h Storage recommend and supply UK manufactures pallet racking allowing for minimum disruption when alterations and spare parts are required.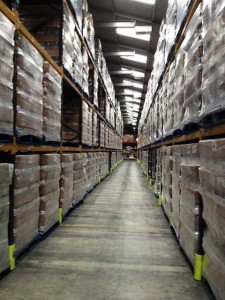 Contact us on 01937 585057 for a free site survey and design advice if you are looking for narrow aisle pallet racking in Leeds, Wakefield, Newcastle, Sunderland, Durham, Darlington or anywhere in Yorkshire in the North.
Below are case studies from some of our successful pallet racking installations. Over the years we have successfully installed many material handling systems including all types of pallet racking, mezzanine floors, industrial shelving and full automated warehouse systems.