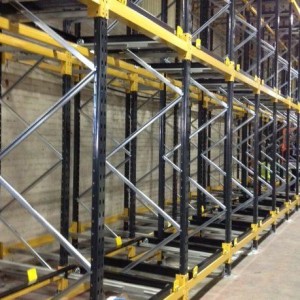 Push back racking is a high density, space saving, gravity storage system for bulk goods, that can be stored on pallets according to the last in first out principle (LIFO). Pallets are pushed back by the next incoming pallet.
This push back racking system is sometimes known as dynamic pallet racking and pallets can be stored two, three, four or up to 10 pallets deep. The pallets are loaded and unloaded from the same aisle which reduces truck travel distances and improving efficiency. Once a pallet is picked from the pick face, the rest roll forward automatically under a controlled speed.
Push back racking can be located against a wall for a single-sided system where only side is accessed or in a center aisle for a double sided access system.
Push back racking offers you:
Easy access to each lane
Handling time is reduced
Storage capacity increased
Pallet storage on sloping roller conveyors
Accessible by Last in – First out (LIFO) principle
Up to 75% increase in storage capacity
Push back racking provides all of the density of the drive in system without having to drive into the rack which keeps damage to a minimum. Best use of available space and saves time in storage and extraction operations.
This is a very versatile system and comes automatically functioning before it arrives on your site. For more information about push-back racking and other racking we offer contact us today on 01937 585057.
Below are case studies from some of our recent pallet racking installations. Over the years we have successfully installed many material handling systems including all types of pallet racking including push back racking.