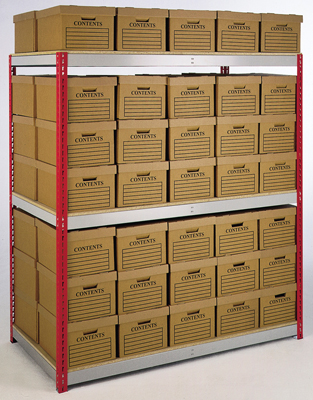 2hssl supply a great range of robust Archive Shelving Bays for storing up to 70 archive boxes. This cost effective solution is popular with all office environments and companies who need to keep bulk storage of documents.
We have two main ranges storing from 20 A4 box files through to 70 archive boxes. We can design a shelving system to fit a certain area or room and offer free advice on the most economical solutions.
Easy tap together assembly shelving bays come complete with archive boxes. Choose from ether 30 box bay, 35 box bay or 70 box bay. Uprights finished in red.
Boxes are: 266H x 356W x 445D mm with internal
dimensions of 254H x 330W x 407D mm.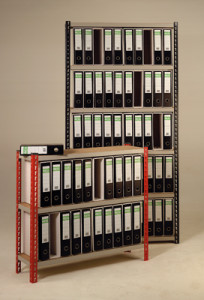 Just Lever Arch File Bays
These Just Arch File Bays are an economic solution to keeping files tidy in the office. Very easy to assemble complete with A4 or Foolscap file holders.
Choice of 20 or 50 file capacity bays. Beams available in light grey, dark grey, red or blue.