Pallet Live Racking systems are suited to operations where the storage of products need to be rotated frequently and space is limited. Pallet live racking offers extremely high levels of storage density in a given area without block stacking your pallets. The majority of pallet live systems operate on a first in first out (FIFO) basis, ensuring automatic stock rotation. However systems such as push back operate on a LIFO principle (last in first out).
This type of system is also known as dynamic storage or gravity flow racking and is made up of inclined roller tracks. The system works with two access faces. Pallets are loaded into dedicated lanes of inclined gravity rollers which are set at fixed gradients, when you remove a pallet, gravity and an automatic braking system bring the pallets stacked behind it to the pick face in a controlled pace.
It is the ideal system for perishable goods but it can also be used to store any fast moving ranges where items need to be retrieved at speed. It maximises capacity as the storage system is compact and saves you time in pallet handling.
Pallet live storage is often used as part of a more complex order picking system. For example the FIFO principle live storage pallet buffer on top, loading and unloading aisles used for restocking and relocating goods from the buffer stock into the feeder lanes leading to the picking tunnel where individual orders can be picked and collated by hand on a unit basis.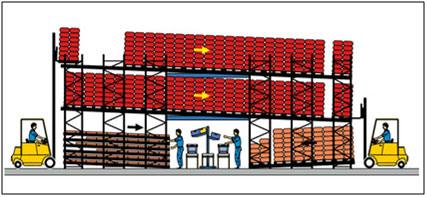 Pallet live racking enables you to:
• Automatically rotate stock
• Increase throughput speed
• Achieve high density storage
• Maximise your floor space
• Reduce damage
• Provide excellent stock control
Pallet live racking provides a perfect product turnover with no interference between storage and extraction of pallets and can be accessed using most types of forklift trucks. To book your free site survey and design consultation call our team here today on 01937 585057.
Below are case studies from some of our successful pallet racking installations. Over the years we have successfully installed many material handling systems including all types of pallet racking including pallet live racking, mezzanine floors, industrial shelving and full automated warehouse systems.