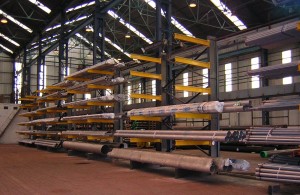 Cantilever racking systems for storing long loads of varying lengths whether light or heavy weight.   They are a cost-effective storage racking system for heavy items such as metal beams, long pieces of timber, metal sheets, pipes, plastic sheets, plasterboard, or any other bulky goods.
We are cantilever racking suppliers for the North East. Offering a broad range of uprights and cantilever arm profiles with numerous material strengths and designs.  Single or double-sided cantilever racking and wall mount cantilever racks are available.  For long and heavy loads you will need a heavy-duty cantilever shelving system.  There is also the option of having mobile cantilever racking which makes the most of available space by placing cantilever racking on mobile bases.  These racks are simple and easy to assemble and very reliable.
Benefits
Ideal for long loads
Great storage capacity
Easy to install and reconfigure
Store any type of load from pallets to timber
Fully adjustable
Additional arms and bays can be added
Easy accessibility
A cantilever racking storage system provides you with plenty of flexibility because they allow you to decide on the height and width and arm lengths of the cantilever shelves.  If your storage needs grow and your load volumes increase, this racking system can be easily and quickly extended with add-on bays.  Also, all systems are fully adjustable based on pre-drilled upright centers.
Systems can be finished in a range of standard colours or can be galvanised for storing applications outdoors. The racking configuration will take into consideration the dimensions and weight of your products and available warehouse space.
Mobile Cantilever Racks
Mobile cantilever racks can be used to store both light and heavy-weight long items. The mobile base and built-in motors allows the structure to move along rails set in the floor. These make the most of available storage space by placing racking on mobile bases.
Heavy Duty Cantilever Racking
Heavy duty cantilever racking are often used to store lumber racking or timber storage racking systems. Industrial cantilever racks which are totally adjustable and quick and simple to assemble. Racking is especially designed to store long and heavy loads such as beams, profiles, pipes and timber.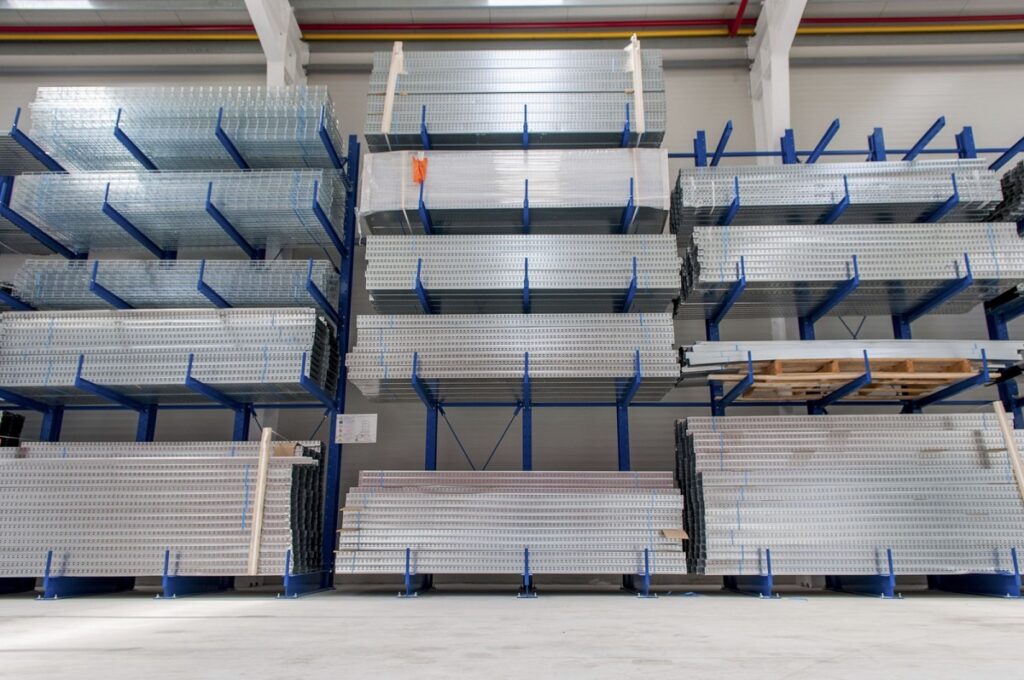 Lightweight Cantilever Racks
The light-duty cantilever racking system is ideal for manually storing lightweight beams, timber, and pipes, etc.  These single-sided cantilever racks are simple to assemble. Arms can be fitted on one or both sides of the shelving system.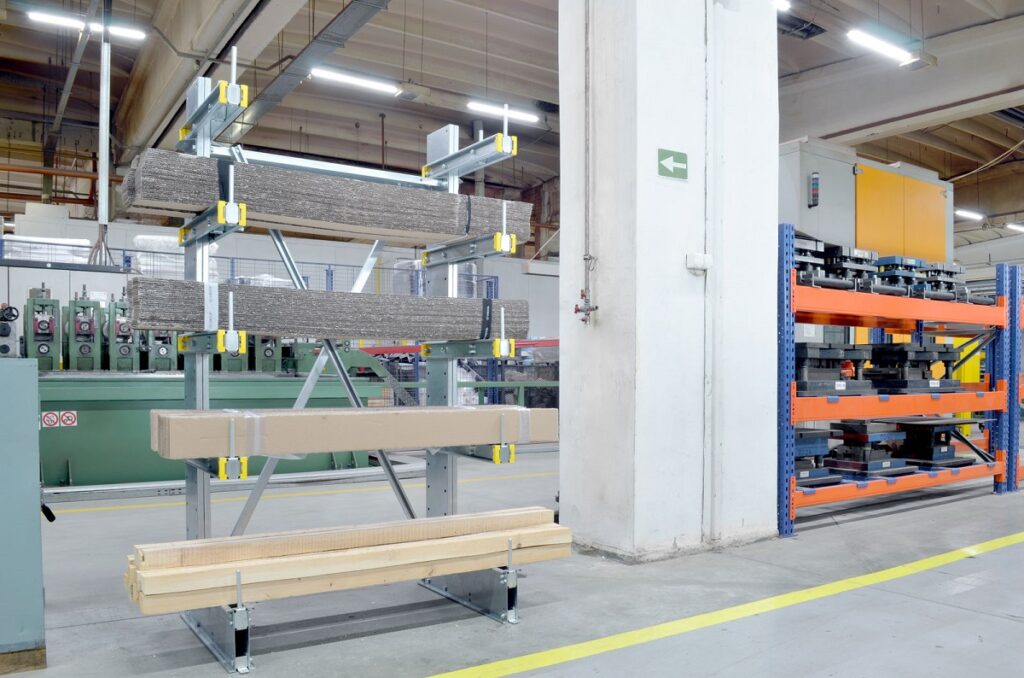 Dexion cantilever racking is a high quality popular brand we can supply.  But we often have used racking for sale.  So get in touch regardless of your budget.
Double Sided Cantilever Racking
Double-sided cantilever racking is ideal for storing long and bulky items that cannot be easily stored on standard pallet racking systems. It can be configured to suit a variety of storage requirements and can be combined with other racking systems to maximize the use of available space. The system is also designed to be easy accessibility, easily assembled, disassembled, and reconfigured to suit changing storage needs.
Long Load Storage for the North East
Storing long loads has always been difficult, but these rack racking systems are the solution. Regardless of what your trying to store, be it long timber lengths or pipes, cantilever racks are a great solution.
Below are case studies from some of our successful racking installations. Over the years we have successfully installed many material handling systems including all types of pallet racking, mezzanine floors, industrial shelving and full automated warehouse systems.
To view all our project click here.
Buy Cantilever Racks
If you are looking to save warehouse space with a cantilever storage system, we are here to help. Contact us today at 01937 585057 if you have any questions about coiled, galvanized, lightweight, or heavy-duty cantilever systems. If you are not sure what racking is, take a look here for a full list of warehouse racking solutions.
Supply and installation of cantilever racking for the North East including Newcastle, Sunderland, Durham, Consett, County Durham, Yorkshire, Northumberland, Tyne and Wear,