Drive-in pallet racking is a type of storage system that allows forklifts to drive directly into the racking structure to load and unload pallets. It is typically used for storing large quantities of similar products and is known for its high density storage capabilities. The system utilizes a single entry/exit point, and pallets are stored in bays that are accessed from one side. Ideal racking for inventory that has a low turnover rate and is frequently accessed in large quantities.
This type of racking offers the highest density storage of pallets. It is most suitable when you have multiple pallets of the same product. Drive in pallet racking is often installed to work alongside conventional APR pallet racking to take care of bulk stock. This racking is particularly popular with the food and packaging industries. However it can be the best solution for any business that has historically block stacked pallets.
FILO Principle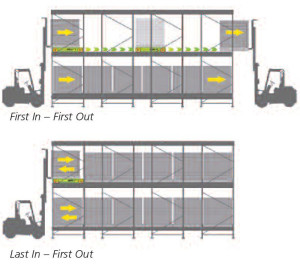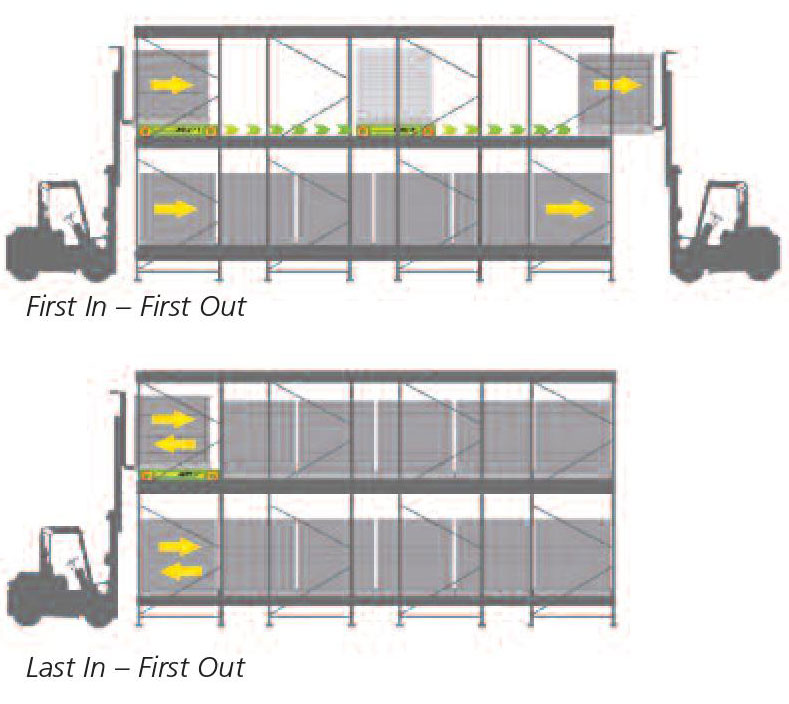 It essentially allows you to mimic the effect of block stacking as high as your building will allow. With the block of drive in pallet racking split into individual lanes it does allow for separation of products by lane. Operates first in last out (FILO) system but only requires access from the front face of the block. Positioned and designed to meet three perimeter walls of your warehouse.
The space saving is made partly because the fork lift trucks are driven into the block of drive in racking down the lanes depositing pallets until each lane is full. This negates the need for fork lift truck aisle and in turn can dramatically increase warehouse capacity and the number of pallets that can be stored.
Racking Benefits
Drive-in racking system is a high-density storage system that provides several benefits, including:
Increased storage capacity – By eliminating the need for aisles between rows of pallets, drive-in racking can dramatically increase warehouse storage capacity.
Cost-effective – Drive-in racking is a cost-effective solution for warehouses with a high volume of similar products.
Improved inventory control – Drive-in racking allows for easy tracking and inventory control of products.
Increased efficiency – Drive-in racking allows for faster and more efficient loading and unloading of pallets.
Easy to install and maintain – Drive-in racking is relatively easy to install and maintain, making it a convenient option for warehouses.
Good for chilled storage – Drive-in pallet racking is suitable for cold storage as it is enclosed which helps in maintaining the temperature inside the warehouse.
Better Utilization of vertical space – Drive-in pallet racking makes use of the vertical space available in the warehouse which is not possible in other racking systems.
If you need drive in pallet racking call 2h Storage Solutions here on 01937 585057 today. We would be happy to visit you and to discuss the best pallet racking options for your warehouse.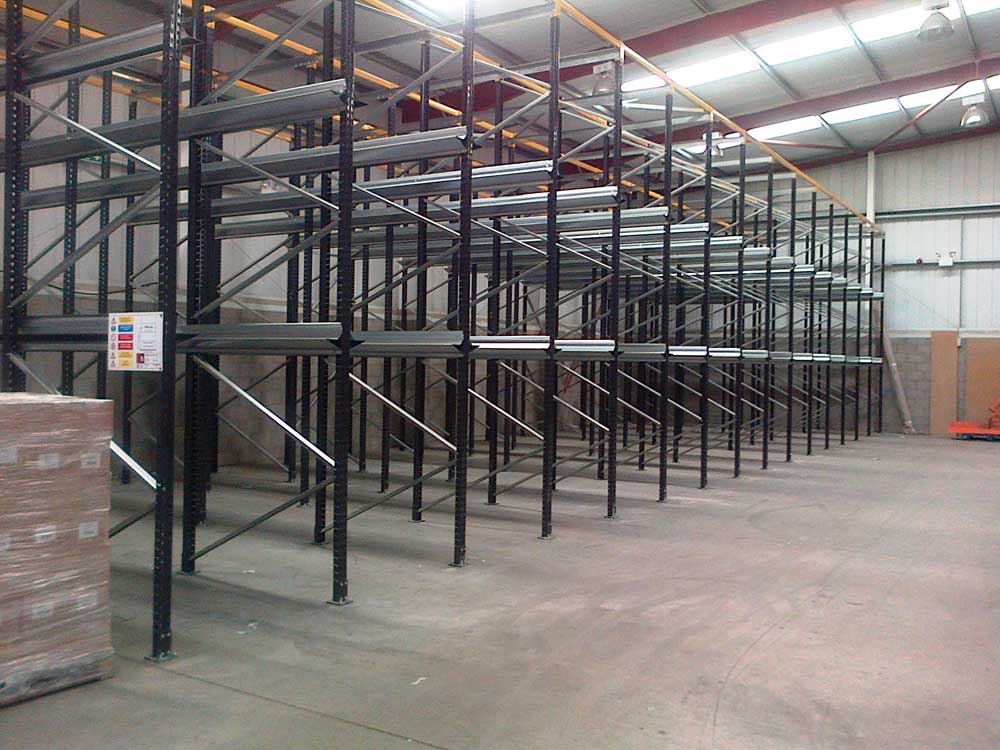 Below are two drive-in pallet racking case studies. Over the years we have successfully installed many material handling systems including drive in pallet racking as well as all types of pallet racking systems.
Drive-In Racking Projects