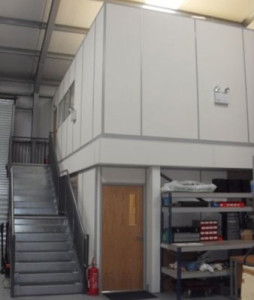 If you are looking to incorporate offices into your warehouse or factory then office mezzanine floors are the perfect solution.
2H Storage Solutions offers a comprehensive range of options for a new office mezzanine including steel and glass partitioning systems, single or two tier mezzanines including mezzanines with built in acoustic materials to reduce both air born and structure-borne sound that travels through the structure of a mezzanine floor.
Many commercial premises have unused headroom which is un-productive and expensive to heat or cool. An office mezzanine floor enables you to utilize the vertical space in your premises without the expense of extending your premises or moving to larger premises.
We take care of all the associated design and building regulations. Offering our experience and advice with a wide range of finishes. A high level mezzanine floor can transform this wasted head space into productive office or storage space with minimal disruption.
As well as offices they can be used for training and meeting areas, control rooms, staff rooms and catering. Our mezzanine office solutions have been installed throughout Yorkshire, Teesside, Newcastle and Sunderland.
To give you peace of mind we take care of the following:
Free Site Survey
CAD drawings for approvals
Steelwork Calculations to BS 5950
Full Fire rating to underside of the floor
Building Regulation approval and liaison
Health and Safety requirements
Project management
Plant Hire and co-ordination
Installation of the office mezzanine floor
Installation of office suite with a wide range of finishes available
Food safe, anti-bacterial cladding systems
Installation of electrics and fire protection systems
Call our design team today on 01937 585057 to organise your free site survey.