Carousel Material Handling System
A vertical storage carousel system is an automated storage and retrieval system. It uses vertically rotating shelves to bring stored items to the system operator.  It uses a series of bins mounted on a vertical oval track inside a large cabinet.  When commanded, the bins will rotate along the track to bring items to the operator.  The motion is similar to a ferris wheel.  Integrated computer controls allows you to perform activities from simple transactions to full inventory control.  They are a dynamic solution that users vertically rotating shelves to bring stored items to the system operator.
Ideal solution if you wish to increase stock efficiency, improve the working environment and save a lot of space.   Effectively a vertical carousel is a vertical storage system which looks like a large vending machine that fully utilises any available height. ASRS storage systems can be adapted and customised for almost any purpose.
Unlike conventional storage solutions,  carousel storage systems minimize the risk of order picking errors. This is because users have a complete overview of exactly where each item is stored in the system.
Vertical storage carousel systems allows for efficient storage of a wide range of storage products,  from bulk goods to very small parts.  They can be individually subdivided by height to meet the needs of specific applications using self-supporting intermediate shelves. With a combination of drawers, flaps and dividers, they can be adapted to store a  high density small parts using standard containers.
An automated vertical or horizontal carousel are a popular system used in many distribution centers around the world.  They efficiently deliver any type of product to the operator, yielding a low-floor-space way of storing, securing, and retrieving anything.
Benefits Vertical Carousel Storage Systems
Authorised access
Authorised access via password security.  Enter the authorized password and part number and quantity needed. Parts are automatically retrieved and delivered through a safe, convenient access window.
Space saving
By utilizing vertical storage space, a vertical carousel offers more high-density storage capacity per cubic foot than other types of systems on the market.  Store up to 25 times more product per square foot than conventional shelving freeing up floor space.
Controlling and managing of inventory
Every parts withdrawal can be recorded via video camera and is time and date stamped.  Records show which parts were dispensed and the person who withdrew.
Higher through-put
A single worker can be as productive as three workers picking from static shelving.
Modularity
Due to the modular design the unit height can be adapted quickly and cost-effectively for any changes in the workplace.
Labor savings
Goods are automatically brought to the operator, saving unproductive time otherwise spent moving around and searching.
Ergonomic benefits
No more bending down, reaching or climbing, all items are brought to the picker at an ergonomic level which in turn increasing worker safety and productivity.
Customisable
Units can be customized to specific heights and capacities.
Security and Control
They offer a great level of security compared with other types of storage systems. Unlike aisles of unprotected open bins, vertical carousels can be locked down completely.
Used in a number of industries including manufacturing and finished goods, retail and apparel, machine building, information achieving, and warehouse applications.  Ergonomically pick & handle for storage of various items for order picking.
Call our team on 01937 585 057 for more information on carousel storage systems and warehouse management.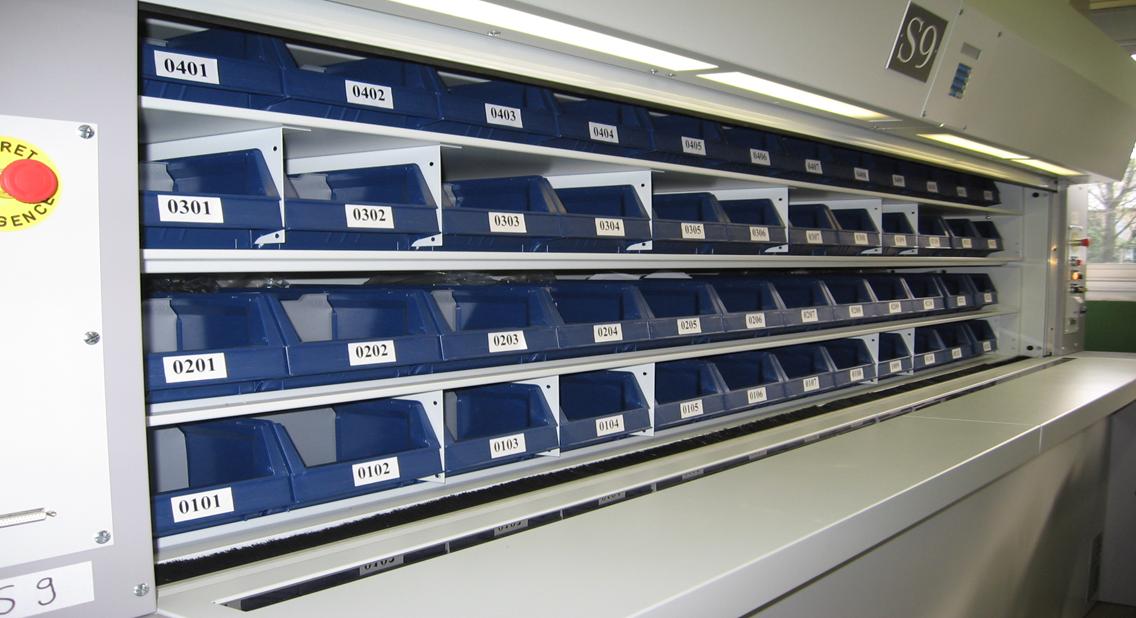 Vertical Carousel System Video
Below you can see the inside workings of a vertical carousel storage and retrieval system: