An omnichannel warehouse handles incoming orders and returns from ALL channels. Orders, returns, seamlessly integrating every location where your customers can buy from you, and the data you have from each of those channels into one interface.
Customers today expect to collect orders, get customer service, and deal with returns through whichever channel they choose, regardless of which channel they originally bought from.
Omnichannel retailing is a distribution strategy where retail, wholesale and e-Commerce channels merge together giving consumers a seamless end-to-end experience from anywhere. The omni channel retail experience is what customers expect today.
An example of an omni channel retail experience is where you find a coupon code on a social site, use the coupon code on the website, then collect from the physical high-street shop. As you can see you will have interacted with the same business through three different channels, but each interaction was seamless and consistent.
Omnichannel is the evolution of multichannel effectively. Where multichannel means 'many channels', omnichannel means 'all channels'. Omnichannel is the solution in the overlapping worlds of ecommerce, social selling, digital marketplaces, and physical bricks and mortar stores.
What is the Difference between Omnichannel and Multichannel?
Where both omnichannel and multichannel involve selling across multiple channels. The key difference is that with omichannel the customer experience and data are joined up across the channels.
Most retailers are now multichannel which means they sell they products via more than one channel. Most often a physical shop and an e-commerce website. However, they are generally treated as separate businesses with little or no interaction between them.
Whereas with omnichannel retail, it is all about creating a single customer experience across all channels and unifying the data.
Not many retailers are truly omnichannel, many use elements such as click and collect or reserve in store for example. Argos being a prime example. Click here to read about how Argos moved from multi to omnichannel.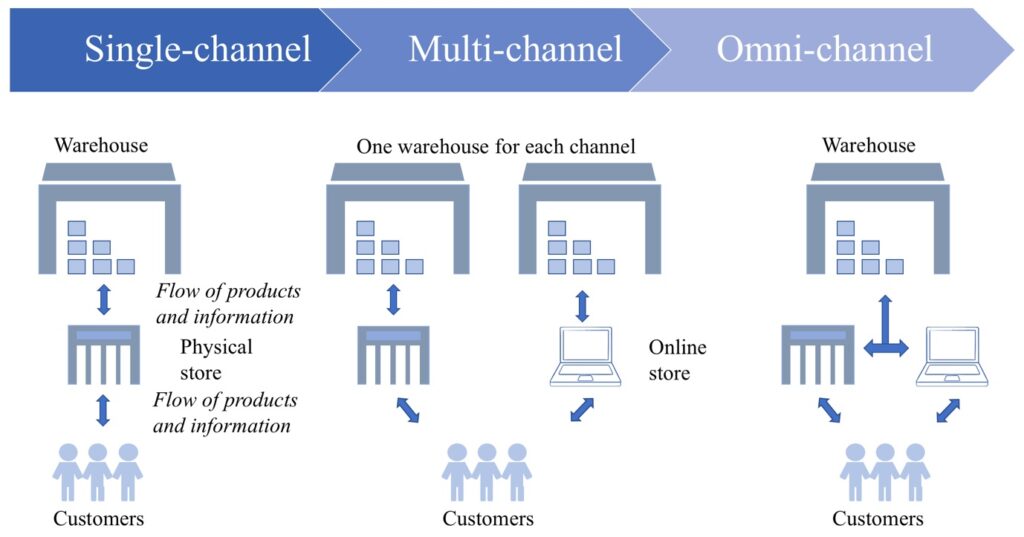 Top omnichannel companies
Omnichannel Examples
Amazon is the first company that comes to mind. Amazon's mission statement; "We aim to be Earth's most customer centric company. Our mission is to continually raise the bar of the customer experience by using the internet and technology to help consumers find, discover and buy anything, and empower businesses and content creators to maximise their success." They seem to be following this still to this day. Amazon focuses on the customer experience and unifies the data via accounts.
Starbuck is regarded as the one of the top companies that provide the best omnichannel experience to customers. Nike has had a significant sales boost thanks to incorporating omnichannel. The
Nike App was a game changer and it became a real asset to the brand with inventory and data being capitalized in real time. More recently Nike fit allows customers to size their footwear correctly without going to stores and actually try them on. Topshop is a UK-based high street retailer that offers both women and men on-trend products. They are on the way to making their Omnichannel as seamless as possible.
Adapting to a Covid World
Companies that are willing to listen and adapt to consumer expectations should survive this time. Those that are not willing to adapt to the changing wills ultimately struggle. For those willing to move forward, the success of moving to omnichannel will only come from good planning and communication.