One of our long standing customers approached us with a requirement to improve efficiencies and productivity in one of their warehouses. Having worked with the company over many years we had a basic understanding of their operation. Taking time to develop a 'User Requirement Specification' which in turn helped produce the 'Functional Design Specification' we were able to ensure that the new installation achieved our customers' objectives.
The project required a change in the racking layout to make movement and picking more efficient. A change in aisle width allowed for articulated trucks to be used in the racks, as more staff are trained to use this type of truck and there are numerous articulated trucks on site it means orders can be fulfilled quicker.
Dexion P90 replaced the old Dexion MK3 system. The galvanised finish of the P90 frames helps reflect the light around the warehouse. The 1100mm deep frames allow for euro and chep pallets to be stored combined with 2700mm clear entry beams means that overhanging loads on chep pallets can also easily be stored. Dexion pallet racking systems meet all relevant design codes including FEM, EN and SEMA standards.
A number of racking accessories were incorporated into the redesign. Mesh Decks were installed to all beam levels; this improves the safety for loading and unloading pallets. For many of our customers' timber or mesh decks are now becoming compulsory on all pallet racking installations. To prevent impact damage to the racking uprights Rack End Barriers were fitted, this protection stops pallets stored at the end of racks damaging the end frames. Polymer guards were installed on all aisle facing uprights again to stop either pallet damage or FLT impact damage.
The lighting in the warehouse was updated. Racking Low Bay LED units were installed to better light the racks making it easier and safer to load and unload pallets. The new compact yet powerful LED lights provide 15000 lumens per unit, a massive increase on the old sodium style units.
As a COMAH site the logistics of completing this project required a phased approach. Fixed Fire Protection had to be removed from the existing racks prior to dismantling, the old racks had to be dismantled, the lighting replaced and the floor cleaned and sealed before the new racking could be installed the sprinklers refitted and the pallets reloaded.
"We were very impressed with 2h Storage from start to finish on this project. The attention to detail in the early stages of the design and their flexibility during the installation really helped us achieve our goals. It's why we've worked in great partnership with 2h for so many years" AW – Warehouse Manager.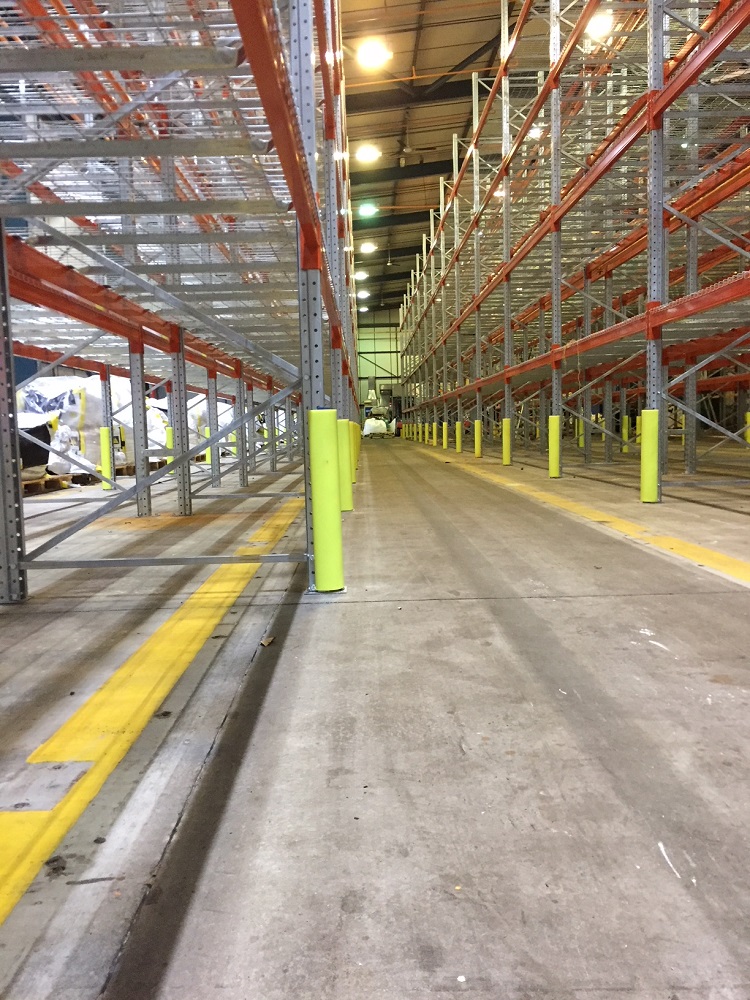 Old Dexion MK3 system
Old New Dexion P90